Boogerwoods is a registered trademark

Charlotte/Metrolina Area Events   

The BOOGERWOODS SPOOKTACULAR!  This is about our favorite.  Consistently rated in the top 10 nationwide and every night is a SELLOUT.  This is their 27th Anniversary event!  ALL PROCEEDS TO CYSTIC FIBROSIS RESEARCH! THIS YEAR, FOUR NIGHTS ONLY!   OCTOBER 24, 25, 31 AND NOVEMBER 1 ON PHANIELS CHURCH RD ROCKWELL/CHINA GROVE AREA IN ROWAN COUNTY.  From Charlotte take I-85 North to Hwy 152 East. Go four miles east and turn right at the caution light onto Rock Grove Church Rd, Go ¼ mile and turn right onto PHANIELS CHURCH RD, Boogerwoods is about a mile on the left. CLICK HERE TO VISIT THEIR WEBSITE!  You must buy tickets in advance.  They go on sale the day of the event at 2 PM.  They are routinely sold out by the time the event actually starts.  Take our advice, be there at 2 PM to get your tickets and then return later, or bring a picnic and plan family activities until time for the show to start.  Parking is limited so carpooling is recommended.  Don't show up at BOOGERWOODS at the last minute and expect to get in.  It won't happen.  Undoubtedly the best haunted attraction in either of the Carolinas. Literally hundreds of volunteers are required to work in the attraction and behind the scenes at BOOGERWOODS, hence the limited four night run.  An experience one never forgets! 

96.1 BROTHER DAVES FAVORITE HAUNTS

REVIEW on BOOGERWOODS

by Nancy T. Bottomley

I, too, went to 4 haunts, 2 on the Tour (The Mill and Campground Massacre) and 2 that were not (Nightmare on Independence and Boogerwoods).  I was told I could write about the other 2 anyway.  I'm glad I could write about Boogerwoods.

BOOGERWOODS is located between Rockwell and China Grove off of I-85 on Hwy. 152, east of Kannapolis/Concord, NC.  It was originally built by family and friends just for fun and now, 2007 marks their 30 year anniversary in business, donating money to Cystic Fibrosis ... many volunteers return annually because they are part of the family atmosphere.

This haunt is OPEN four (4) given nights per season and these days VARY, so check the website every year.  Tickets go on sale at 2:00 that afternoon for that night of the haunt and typically sell out.  They have their reasons for doing it this way.

While you are in LINE, Boogerwoods offers a Big Screen showing Halloween-y movies.  It is like a walk-in instead of a drive-in as the speakers are spread out.  Wait time is about 2 hours but it is well worth the wait - built in benches help.  They also offer concession goods and an on-duty Sheriff.

Boogerwoods was a lovely mixed bag of having an experience with a prop, an experience being part of an audience who watched the volunteer/actors comically banter and put on a show for you, and hysterical interaction with your guides/actors (below) ... totally different combination.

SCARE FACTOR -- 5/5

Entertainment factor was serverly high.  Very unique sets, different sensations, smells, frights and constant laughing.  Note:  I laughed so hard, not because it was dumb, but because your guides (mentioned below) were so funny, having a great time themselves.  It was designed to be this way, for both fun and fright.  LOTS of humorous and creative skits to entertain or scare you.  LOTS of sensory input ... some unlike anything I'd ever seen done (more below).

FX/PROPS/SET DESIGN --  5/5

BEPs (big expensive props) and the use of TONS of plain 'ole creativity, imagination and down home fun tactics.  In my opinion, these folks could fly without BEPs ... and that is saying a lot.  But even their big props were very unique.  I must mention CLUB BOOGER -- You had better dance in there or "The Managers" will appear and check on the "bar."  They scared the heck out me:  quite amazing and frightening.

Without spoiling or repeating anything that isn't already posted on their website with photos, I decided to list what you will experience through your senses:  SIGHT:  dark then bright sets (high scare factor), strobes, "lightning bolts," 3-D, and a beautiful tall landscaped waterfall; SMELL:  farm smells; SENSATIONS:  you felt like you were in a fender bender, like you were walking on mushy, sinking and/or muddy ground; that you were in a rain shower (uh, you were); like you had pressure on your whole body; like you had motion sickness (NOT just the spinning tube ... I have never seen this BEP before); and like you got the tingles in your feet; HEARING:  thunderstorms, lightning bolt cracks and lots of good music.  Plus, you got to boogie and dance.

Regarding set design continuity, none of these sets were related, but your guides, 2 volunteers (actors) cultivated the sense of continuity, just by talking TO you and WITH you inbetween sets.  THEY are the ones who made it flow together unlike self guided tours where you might feel a choppy set change.

ACTORS/Volunteers  -- 5/5

Booger uses 75-100 volunteers per night and they need all of them.  These people were priceless and I loved them!  It was like you went to a show.  They had rehearsed and comical banter and antics among themselves and acted like you weren't there sometimes.   Sometimes I forgot I was at a haunt, I was so into it ... their acting was as quite credible for what it was.

LENGTH:  5/5 -- 40 minutes.  Perfect.

Note:  A little subject material might be considered by some to be "on the fence" ... or just plain over it regarding what you want to hear or see, but everyone's sense of humor varies, doesn't it?

Review of Boogerwoods 10-24-2009

By Bethyboo

Scare factor:  5/5:  I thought that Boogerwoods had a great balance of scares and comedy in every scene we walked through.  It is very interactive and our guides, Super Dave and Evil Knieval, were extremely entertaining.  I knew we were in for a great time when we first got in line at Boogerwoods.  The line seemed pretty long, and they had a scary movie playing on a big outdoor screen that we could see very well from the back of the line.  I was talking to my friends, when an unexpected "something" happened and scared me so bad; I spilled by bottle of water.  It set the tone for the whole thing.  Within just a couple of minutes, a Michael Meyers character was on a zip line right above the crowd and heading right in our direction!  This was very effective and scared me pretty bad.  At this point, I wasn't sure what we were in for, but I was nervous and excited to find out!   All the scenes were excellent.  I haven't picked my favorite yet, but in the running are the Saw box, Snake man, Booger Diner, and Club Booger.  This was my first visit to Boogerwoods and I was very impressed.  The money raised for this attraction goes to Cystic Fibrosis and I just wish they could be open for more days in October, because I think they could raise a lot more money for their cause. I hear they sell out every night.

Actors: 5/5:  I have to give props to the guides Super Dave and Knieval.  They are so fun to be with you would think it wouldn't be scary.  WRONG, they defiantly make you feel at ease and then something scary happens.  All the actors were very good at scaring you and are always in your face.  I would have to say the best actors I've seen this Haunted house season.    

Set design: 5/5:  Again, for being open only a few days per year, they really have a detailed set with lots of effects. It is obvious that they have spent a lot of time and imagination on set design, and the scenes flow together very well.

Length: 5/5:  The length was perfect.  I never felt rushed, or saw any other groups while inside the attraction.  It lasted 45-55 minutes once inside the haunt.  I don't mind the wait to get in, when you know the haunt will be fun, you get to see everything, and feel like it last as long as the wait did.

Overall:   5/5: Boogerwoods has it all.  Scares, laughs, and surprises.  I would recommend this attraction to everyone.  The cost is only $15.00 and really that is a super value compared to other attractions I've been to.  Boogerwoods should not be missed!  It has been my favorite this season and I will definitely go back next year.

Boogerwoods

by Sabrina913

Attended: Saturday, October 24, 2009

Scare Factor 5/5:  They managed to do what few haunts can. They mixed comedy with scares. You don't just go through this haunt, you become an active participant. In fact there are sections that you are not allowed to leave until you do something. It is very interactive. This is the very first haunt we have ever gone to that managed to make my brother jump. This happened when we were in line waiting and since I don't want to give it away, let me just say it managed to make everyone jump and scream.

Actors 5/5: I usually don't like haunts where you have a guide because they tend to be too "safe". We had a guide in front and one in back, Super Dave and Evil Knieval. They did a great job of making us laugh, and keeping us on edge for the next scare. Between them and the actors it was a great experience. Some of them are very loud; while others are so quiet you don't know they are there until you turn around and see them following you.

Set Design/Props/FX - 5/5:  I think their set designs were genius. They take you in groups of about 10 people and there are approximately 20 sections that you go through. Here is the genius part, something I like to call the sardine effect. Each room/section was just big enough for the group and actors to fit in. Being this packed you have nowhere to go. You are at the mercy of the actors and guides. When I hear chainsaws my feet automatically start running, but here I had nowhere to run. This definitely brought the scare factor up for me.

Length 5/5:  We drove a couple of hours to get there and did not feel cheated by the length of time it took to go through. The attraction seems to last about 45-55 minutes from where you enter. The pace is perfect. We never saw or heard the group in front or behind us. They didn't rush us through, but kept a perfect pace. 

Overall 5/5: Boogerwoods is only open about 4 days each season and each night their tickets sell out. You do have to plan ahead in order to get your tickets, however it is well worth it. The price is $15 dollars for a ticket and all proceeds are given to Cystic Fibrosis. Everyone there volunteers their time, but act as if they are being paid. If you are looking for screams, laughs and surprises, this is the place to go. I can't wait to go again next year!

   Boogerwoods - By Julie

------------------------------------------------------------------------------- Review

Scare Factor - 5/5 - I should change this to entertainment factor, because while I was startled several times, to me it isn't really a "scary" haunt so much as an entertaining haunt. Please don't get me wrong, if you're claustrophobic, or scared of chainsaws, or things going bump in the dark, you will get scared. But those things pale in comparison to the entertainment value, which comes from a great variety of innovative scares, the fact that you are guided through the scenes and the interactive aspect of many of the scenes. I had such a great time I can't bear to give them less than a 5 here.

Actors - 5/5 Guides: I usually don't care for them. Floyd and Otis were the funniest guides you could ever ask for. The image of these guys lip synching Enter Sandman from behind windows (with flashlights for  a nice spooky effect) will forever be etched on my brain.

All of the actors here are volunteers, and man, they are awesome. They obviously take pride in, and enjoy their jobs.  They never break character, they get up close and personal. I usually don't care for actors portraying movie characters, but the person with the Michael Myers get up did an awesome job. Just ask my friend who was beside me in the mine, as he was grabbing for her through the bars. Classic!

Set Design/Props/FX -5/5 Lots of innovative things here. This was my first time through Boogerwoods, so I don't know how much they change things from year to year. Folks who visit every year may get jaded, but I was amazed at the animatronics and the amount of work that must go into these scenes. You will get a little wet here, and they will attempt to freeze you....come prepared.

My favorite was the mine shaft...but I don't want to give it away. It was outstanding, and something I have never before encountered.

Length - 5/5 I so didn't want it to be over when it was done. But they end with a great scene, what more could you ask for? And you get a lot for your money. Cost for Boogerwoods is only $15 ($25 with a fast pass.)

Other   - 5/5 Parking is tight here, but the walk to the line is not far. My recommendation would be to get the fast pass unless you like standing in line a looooong time. Apparently this was the first year they had offered it...it's worth the extra $10.

They take groups of about 10 at a time, which is usually too many for me, but I was with a group of adults, so that worked out just fine, especially since part of the scare/fun of many of the scenes was the claustrophobic/trapped feeling.

Buying the tickets is not the easiest, since they go on sale at 2 PM for that night's show. It would be nice if they had an online option to buy, since some folks have over an hour drive to get there.

Overall Impression - 5/5 Boogerwoods was a blast! I'll definitely go back. I usually don't care for comedy mixed with scares, but these folks have taken this concept to the highest level.  I would recommend this haunt to everyone. We were spooked, entertained and engaged in the process the entire time. 

BBoogerwoods

Submitted by packbacker

Scare Factor-4/5-

Parts of Boogerwoods are meant to be exceptionally scary while other parts are meant to be simply entertaining.  I found early on the scares lacking but the entertainment value through the roof.  Pinhead and the flatbacks cranked the scare value up tremendously.  I can't get over how awesome a scene the flatbacks area was.  I don't want to say any more to spoil it....just bravo!  The whole trail had a different feel to it with guides.  There were set scenes rather than pop out scares.  It was a very welcome change of pace for me. 

Actors-5/5-

First a word about the guides.  We had Super Dave and Evil Kneivel.  These guys never broke character and were just a riot.  They thought quickly on their feet to come back against stupid questions, interacted with each guest, and still managed to keep everyone together and moving.  The actors in the haunt were also top notch.  They had  a set that were interactive with speaking parts and others who simply went for the scares.  Those provoking the screams knew what buttons to push and didn't let up until the guides released you.  Special attention has to be given to Michael Myers.  You, sir, were amazing. 

Set Design-5/5

Learning that this haunt was open 5 days a year and was run for charity I was expecting old school low tech scares.  Boy was I wrong.  There were multiple things along the trail that I had never seen before.  Flatbacks, Boogerassic Park, and Beetlegeeuse's moving intestinal tract were fantastic.  The monster masks/makeup were top notch.  Pinhead looked very real and then we got some ridiculously huge monsters here and there.  If that werewolf baby prop is for sale somewhere let me know....I love it!  

Length-5/5-

Plan on about 45 minutes to see/walk it all.  You're never rushed, you aren't overrun by other groups, and by the end you're plum worn out.

Other-

My one complaint would be having to buy tickets on site the day of your visit.  That meant 4 hours travel yesterday instead of 2.........but we sure enjoyed ourselves.  It's also a novel concept that there are limited tickets....general admissions were sold out when we arrived at 8:30 with very few fast pass options left.  The fast pass is sooooooooo worth the extra $10.  We were told the end of the line we saw was a 3hr wait.  I'd definitely wait that long to go through but for $10 I can wait 15 minutes?  No brainer!

Overall-5/5- 

I can't stress enough how much I enjoyed this haunt.  It's staffed solely by volunteers with all proceeds going to Cystic Fibrosis research.  They scare, they entertain, and they do it all for good reasons.  I left with a giant grin on my face.....it was a tremendous way to cap a fun haunt season.  I think I may have a new number one for 2010.10.

Member Review for "Boogerwoods" (Unofficial):

by Blame Elvis

Scare Factor: 4.5/5 Someone on this message board mentioned that this should be changed to "Entertainment Factor", and they are exactly right when referring to the Boogerwoods haunt. Boogerwoods is unique in that not only does it provide frights for people of all ages; it also packs in quite a few laughs as well. That being said, the scare factor is still quite prevalent. First of all, the haunt itself is located in the back woods of China Grove, so you get that chilling frightful ambience right from the get go. In addition, each set is located quite a distance from the preceding and succeeding ones, so walking through the dark woods of North Carolina is inevitable! Boogerwoods provided some intense moments for us that took our breath away.

Actors: 5/5 Boogerwoods is one of the few haunts around that still utilizes the "tour guide" concept, and they do so with perfection. Our guides were the infamous Super Dave and Evil Knieval. If you haven't seen these two perform yet, get your butt down to China Grove and see 'em! They provide an excellent ebb and flow to the whole experience, and do an outstanding job of gauging how the people in the crowd are going to react to different scenes, and then adjusting accordingly. The actors that participate in Boogerwoods are an all volunteer group, so it amazes me that they can be so good. I really enjoyed how they fed off of members of the group who were getting startled!

Set Design: 5/5 Flatback. I Googled the heck out of this word to try and figure out what in the world everyone was talking about before we went, but all I could find was some sort of truck. Boy was I wrong. This is hands down the coolest thing I've ever experienced in a haunt before. I don't want to ruin it for next year, but I pray other haunts jump on board with such patron interaction. Additionally, as I mentioned before, each set is isolated, giving the patron an added level of suspense as he/she walks up to the next part. Each set we visited was completely revamped from when we went a couple of years ago which was refreshing. They even somehow managed to make Club Booger even cooler than it was before!

Length - 5/5 Boogerwoods is a really, really long haunt. Make sure you use the restroom as often as possible before you head into the final queuing corral, because the haunt takes at least 45 minutes. This is one of those attractions where you really get your money's worth, so relax and get ready to have a blast!

Other: 4.5/5 First things first, thank you thank you thank you for utilizing the new Fast Pass system! Paying the extra ten dollars to not have to wait in line for hours is well worth it, and the system worked like a charm. Our Fast Pass time was 10:30 and we probably actually got into the haunt a few minutes after, so it worked great. Also, as weird as it is to have to buy the tickets on the same day as you go, it kind of gives the patron a feeling that they are going to something exclusive. Kind of like a secret party or something. That being said, I can easily see how that could be a hindrance to people who live outside of the Charlotte area. My only complaint about Boogerwoods is the lack of Point of Sale terminals for debit/credit cards. I definitely would have bought a shirt after the haunt if they accepted debit cards.

Overall: 5/5 Boogerwoods is without a doubt a must see for any fan of haunts. The best part about this place is that you can make a family event out of it, since there are some laughs along with scares. This place does a phenomenal job with an all volunteer squad, and it's refreshing to see a place doing something for such a good cause. I'd recommend Boogerwoods to anyone looking for a good time, with some scares mixed in of course!

Copyright © 1998 - 2014  BOOGERWOODS

No portion of this website may be reproduced without the express written permission of Boogerwoods. All rights reserved.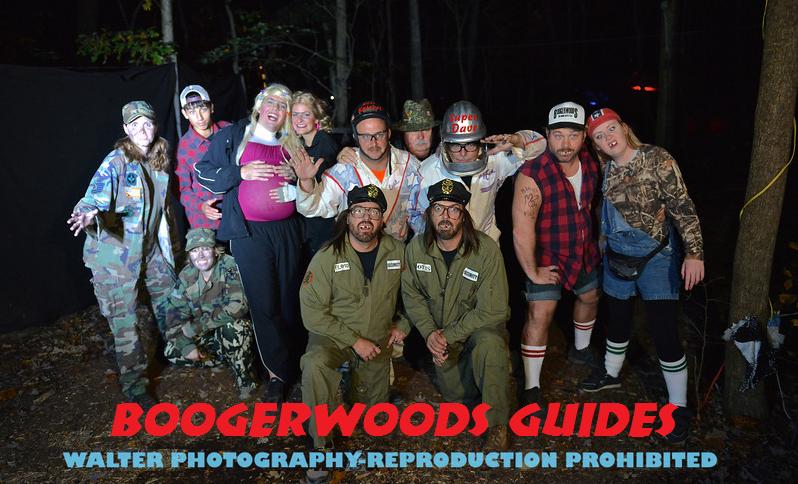 Nikki Hyde Barnes — 5 starWe drove all the way from Knoxville, TN just for Boogerwoods! It was amazing!!! The guides Lone Ranger and Tonto were out of this world awesome and entertaining. It was scary and fun. I will be recommending this haunt to all my friends and family. We will definitely be making this something that we do every single year. I also love that proceeds go to cystic fibrosis. It is an amazingly good time but also for a very beautiful cause. Also, we loved the National Anthem at the beginning. Just an all around wonderful and epic place!!! Thank you for one of the best Halloween nights ever!!! Michael Myers truly scared me to death!! :)

Larry Johnson — 5 starThe legends are true...this place is as AMAZING as everyone says, and beyond! I waited in line with my girlfriend around 2 1/2 hours, but it was worth every second. From the holding tank, to the last thrill of the Flatback (which has to be the most unique haunt feature around, for what it's worth), you guys provide a killer experience front to back! With a warm, friendly staff, great concessions, engaging and hilarious guides (thank you, Sons of Booger, for allowing us to survive in - mostly - one piece), and actors that are wonderfully relentless, not to mention the fact that your ticket price is going to an amazing cause...Boogerwoods is the standard-bearer for haunts.

David Kegan Campbell — 5 starBy far the best haunted attraction I've ever been to. Definitely worth the money and time waiting in line. Tonto and The Lone Ranger were the tour guides of my group and they were great! I hope Tonto doesn't get sick from being out in the cold without a shirt. Ohhhh AND I love the fact that they open the attraction with the playing of the national anthem and all money collected goes to benefit cystic fibrosis.

Melissa Cash — 5 starI will be making this place a Halloween pit stop from now on. I love the different scenes and our tour guides were great.. Tonto n Lone Ranger were fun and very entertaining. The scare movie while ur waiting is great as well.

Travis Bayne — 5 starThis was my first time here. I drove all the way from Charlotte on Friday night and waited 2 hours and then a bad storm came up and they had to close. We drove all the way back and waited 2 more hours on Saturday night. Let me just say... It was well worth the wait and gas! I have been to many haunted attractions and this is probably the best one I have ever attended in the Carolinas. Shout out to Lone Ranger and Tonto our tour guides! Yall were great! See you next year!

Morgan Wiggs — 5 starAbsolutely the best night of my life. Definitely worth the donation. So excited to make this party of my Halloween season routine!

Shelby Redmon — 5 starLike always it was amazing!! Definitely worth the wait! My fifth year going and it gets better every time! Y'all do such a amazing job! Can't wait for next year! See you then Boogerwoods!!

Jerry Strange — 5 starBEST TRAIL I BEEN TO IN YEARS, ABSOLUTELY LOVED IT!!! THE WAIT IN LINE WAS WELL WORTH IT!!!! WILL BE BACK AGAIN!!!

Kristie Vorrath — 5 starI LOVE YOU BOOGERWOODS! My boyfriend and I visited your woods for the first time this past weekend, and we had the most amazing time. It was his birthday gift to me and it couldn't have been more perfect. Sons of Booger, you two were great, we so enjoyed having you as our guides. All of the staff was wonderful, so friendly and laid-back. And your actors...holy crap, you guys are insanely AWESOME! .

Haley Lambert — 5 starLet me just start off by saying it is definitely worth $15 it is the best one I've been to yet! It's worth the wait in line! And I love that the money goes to a good cause! I'd have to say one of my favorite parts was the "New York taxi service" riding in the van cause it felt like we were muddin and me being a country girl I really liked that! All of it is just so amazing!! I will definitely be back again next year!! & also I loved my tour guides last night Jr. & beetle juice "boogerwoods maintenance" they were amazing!!

Nikki King — 5 starJust got home from Boogerwoods and it was awesome!!! Haven't been in years and it was very different but still great....loved the flat back scene and our tour guides Junior and Pappy were awesome as well!!

Kelly Marquez — 5 starLove it... they scared the crap out of me def was not expecting it to be that good... I cant not wait until this year... and I will prob go every year from now on... so much FUN for sure.

Nathan Rakes — 5 starThis was our 1st year and we will definitely be coming back next year! You guys put on a great show and it's for a great cause! ★★★★★

Kelly M. Henderson — 5 starAbsolutely love this place I have been every year since it started and will always come back. Great people great dun an always for a good cause